SilentSync® Maximum Performance with Cost Saving Results
ContiTech SilentSync belt inventory.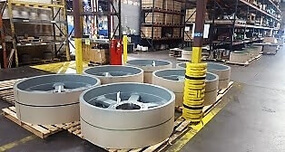 Iron inventory in stock.
SilentSync® Maximum Performance with Cost Saving Results
Rainbow Precision Products Inc. - we are a direct distributor for Continental SilentSync®. We have been selling SilentSync® formerly Goodyear Eagle NRG® belt drives since 1992. Our sales force is committed to providing you the absolute best in products and service in the power transmission industry. We are thoroughly trained on Continental belt drives and are backed by Continental staff and sales representatives specially trained and qualified to conduct in-depth studies of your application needs. In addition, our sales representatives have access to powerful computer programs needed to optimize your current drive/belt applications. When it comes to all your power transmission needs, we stand ready to deliver. You can count on www.rainbowprecisionproducts.com. for a high level of service, delivery and technical expertise you need.
Our office hours are 7:30 AM - 4:30 PM PST, Monday through Friday. Please don't hesitate to contact us with any questions, we are here to help you!